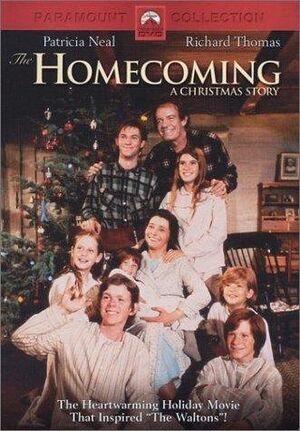 The Homecoming was a 1971 family drama movie, which serves as the pilot for The Waltons. Although it was not expected to be a pilot for a series, it was popular enough for a series to be commissioned.
The Homecoming was in fact the second screen adaptation of author Earl Hamner's Jr.'a book, "Spencer's Mountain," following the motion picture of the same name, released in 1963.
Cast
Plot
Quotes
Elizabeth: Mary Ellen called us piss ants.
Olivia: Well you know better than that don't you, Elizabeth?
Elizabeth: I don't feel like a piss ant.
Olivia: There, you see?
---
Little Girl: Thy two breasts are like two young rows that are twins which feed among the lilies. Solomon Song Chapter 4:5.
Missionary: Er... Thank you.
Trivia
Notes