Jurassic World: Dominion Dominates Fandom Wikis - The Loop
Play Sound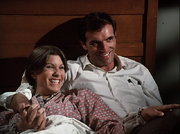 Throughout the show, Mary Ellen often showed a maternal, independent side, and surprised if not frightened her grandmother at the fact that she wanted to become a doctor. Attending school and taking care of out of town families that needed assistance, Mary Ellen became a nurse.
After meeting Dr. Spencer, and quickly becoming engaged to marry, Mary Ellen started a job working for Dr. Curtis Willard, a new to town and mysterious, sharply edged Doctor. Romantic tension arose between the two which led to an engaged Mary Ellen kissing Curt, and Erin becoming aware of the relationship that could end her engagement.
Right before the Wedding, Mary-Ellen breaks up with Dr. Spencer, telling Curt that he is the "last man on earth that she'd marry", the scene quickly breaks to them exchanging nuptials.
With Curt off to war, Mary Ellen moved back into her family's home and raised their son, John Curtis. Heartbroken, Mary-Ellen became single mother when she was suddenly widowed after Pearl Harbor, when Curt was presumed dead.
In the final seasons of The Waltons, it's revealed that Curt is still alive and living off of Walton's Mountain, in a relationship with another woman, pretending not to know of Mary Ellen or John Curtis's existence. Embarrassed at his handicap from the war and unable to bear any more children, Curt separated himself from his family and began again, spending his days drinking and fishing. After a visit to figure out what was going on, when told her dead husband was still alive, while engaged to a man named Jonesy, Mary Ellen is gifted a fishing pole to give to their son, with a presumption that he may take him fishing.